Dataforth Introduces DIN Rail Mount Carrier for SensorLex® 8B Signal Conditioners
Press Release
Release Date: Apr 9 2009
Dataforth Corporation of Tucson, Arizona, has introduced a new DIN rail mounting accessory for its family of
SensorLex® 8B isolated analog signal conditioning modules
. The 8BP01 single channel DIN rail mount carrier is offered in two versions: the 5VDC powered 8BP01-X05 and the 7 to 34VDC powered 8BP01-X24; the carrier is suitable for any 8B signal conditioner.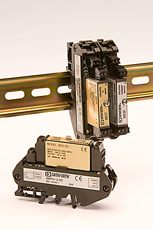 The 8BP01 measures only 2.32" x 3.54" x 0.65" (59mm x 90mm x 16.5mm), making it ideal for use in high-density installations. The 8B carrier can be mounted on any standard DIN rail (EN 50022-35 and EN 50035-G32).
Other design-in 8B accessories include a selection of standard and DIN backpanels (1, 2, 4, 8, and 16 channels) that provide screw-terminal inputs and outputs, as well as a DB25 header connector. The DB25 cables are available in 1, 2, or 7 meter lengths. Moreover, a power supply module in the same 8B form-factor is offered to accommodate input voltages of 7 to 34VDC and provide 5VDC output at 2A to power any combination of 8B signal conditioners. The 8BPWR-2 module plugs into its own socket on the backpanel.
Since its introduction, the
SensorLex® 8B family
has grown to 19 family groups and 123 different modules that interface to a wide variety of voltage, current, temperature, position, frequency, and strain measuring devices. Their miniature size is ideal for embedded or portable applications such as mobile test stands, COTS military and defense applications, miniaturized security and surveillance systems, and embedded process controls for semiconductor manufacturing equipment. Full encapsulation and outstanding specifications, including ±0.03-0.05% accuracy, better than six sigma reliability, low output noise, and broad operating temperature range, ensure the 8B modules are also a perfect fit for rugged environments, such as wind turbines.
Dataforth Corporation was established in 1984 and is a worldwide leader in the design and manufacture of signal conditioning, data acquisition, and data communication products for industrial and institutional markets. The company is ISO9001:2015 registered. For additional information, call 800-444-7644 toll-free, or e-mail
sales@dataforth.com
.
Original Release: March 2009
Was this content helpful?
Thank you for your feedback!