ReDAQ Shape Software (8B isoLynx)
The easiest and most efficient development tool to create, save and open graphical user interface projects!
Projects can be distributed as runtime applications protected from user changes.
ReDAQ® Shape is Dataforth's out-of-the-box data acquisition software designed specifically for the SLX300. When combined with the 8B isoLynx® SLX300, ReDAQ® Shape software ensures an exceptionally powerful data acquisition system.
Create, save, and open graphical user interface projects
Test, process, and analyze acquired data
Create customized Presentation panels in 3 easy steps
Use built-in functions in the Acquire and Analyze panels without setup and configuration
18 high quality controls
Supports any graphical file format
Integrated, across-the-board applicability
ReDAQ® Shape also provides the most effective way to set up and configure the many powerful 8B isoLynx® SLX300 functions.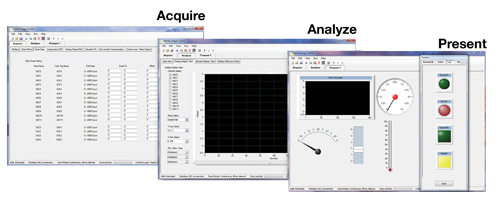 Product Availability
Usually stock to 2-3 weeks
Features
ReDAQ® Shape Controls
Button
Text Box
Label
Switch
Thermometer
Tank
Meter
Chart Recorder
XY Plot
Picture Box
Group Box
LED
Numeric Edit
Slide
Gage
Knob
Oscilloscope
Discrete Waveform Graph
Products and Ordering
Was this content helpful?
Thank you for your feedback!