Data Acquisition (DAQ) Components
Communication DAQ Components: Offered in two models covering the standard industrial buses Ethernet, RS-232, RS-485, and USB with host software interfaces to the system using Modbus TCP/IP or RTU protocol
Analog Input DAQ Components: Interface to a wide range of standard industrial sensors and equipment and offer up to 16 channels of input, each of which can be independently configured

Process Voltage, Process Current & Thermocouple Input Modules offer 8-channel differential input or 16-channel single-ended input for precise measurement of voltage and current signals; they also offer 8-channel measurement of five thermocouple types including accurate cold junction compensation and linearization. All channels are individually configurable for range, alarm limits, and averaging.
RTD Input Modules interface to 2- or 3-wire sensors including six RTD types and potentiometers. Modules offer six channels, each configurable for range, alarm limits, and averaging.
Strain Gage Input Modules connect to full bridge sensors, have narrow or wide bandwidth filtering and offer four channels, each configurable for range, alarm limits, and averaging.
Frequency Input Module accepts zero crossing and TTL signals with frequencies of 500Hz to 100kHz and provides a DC stimulus for contact sensors. This module has four channels, each configurable for range and alarm limits.

Analog Output DAQ Components: Process Current or Voltage Output models are used to drive valves, perform other crucial process operations, and provide up to eight channels of 300Vrms channel-to-channel isolated output which can be independently configured
Discrete Input/Output Data Acquisition Components: Provide five channels of input and five channels of output per module and offer advanced specialfunctions as well as alarm capability; they accept 3 to 60VDC input and provide 3 to 60VDC output at 3A, or 90 to 280VAC/VDC input and 24 to 280VAC output, also at 3A
MAQ®20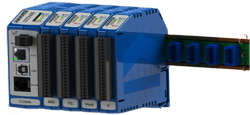 MAQ20 components
are designed for rugged industrial applications. Communication modules, analog input and analog output modules, and discrete I/O modules are available.
±0.035% accuracy
1500Vrms channel-to-bus isolation
-40°C to +75°C operating temperature
8B isoLynx®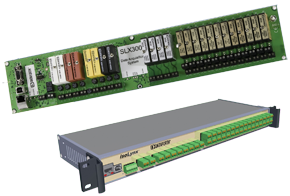 8B isoLynx®
enables simultaneous analog and digital I/O at sustained rates up to 3.0kS/s (100kS/s burst); advanced features include alarms, counters, and timers.
Miniature Multi-function System
Turn-key Software
5B isoLynx®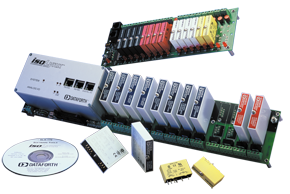 The
5B isoLynx®
is ideal for remote data monitoring and data logging, expandable to 60 analog channels and 128 digital channels.
Modbus TCP/IP or RTU support on RS-232/-485
1500Vrms input-to-output and channel-to-channel isolation
Was this content helpful?
Thank you for your feedback!