Fully Isolated DIN Rail RS-232/485 Converter/Line Driver
The DCP485 is a compact RS-232 to RS-485 converter which features a complete electrical isolation barrier and heavy duty electrical surge protectors. These devices feature a DIN rail mountable enclosure for application to a junction box, a panel, a relay rack, the sides of computer equipment, or anywhere a DIN rail can be mounted. Isolation is provided by optical couplers and a transformer isolated DC-to-DC converter. The RS-232 connection is through male or female EIA 9-pin D-sub connectors, or a 3-wire RS-232 connection can be made through convenient pluggable screw terminals. The RS-485 connections are made through convenient pluggable solderless screw terminals.

The DCP485 series is designed for full duplex operation over two wire pairs. Outputs are tri-state, allowing multidropping of up to 32 units over one pair. Data rates are DC to 115.2K bits per second (baud). Four diagnostic LED indicators are provided for installation guidance and system troubleshooting. The RS-232 interface includes Request To Send (RTS) and Data Terminal Ready (DTR) either of which can be used via DIP switches to enable the RS-485 transmitter. Alternately, the DCP485 offers automatic line switching in which the RS-485 transmitter is enabled automatically by each character sent on the RS-232 Transmit Data (TD) line. Additionally, the RS-485 transmitter and receiver may be independently enabled continuously or under RS-232 control. A convenient null modem switch is provided for the data lines. Also, line termination switches independently connect line termination and line bias resistors to the RS-485 lines. The units are powered from wide-range voltages of +10 to +30VDC through pluggable solderless screw terminals.
Certifications
---
Technical Documents
Product Availability
Usually stock to 2-3 weeks
Features
Complete Isolation with Optical Couplers and Transformer-Coupled DC-to-DC Converter
Industrial Surge Protection Devices and 15kV ESD Protected RS-232 Inherent
Four LED Diagnostic Indicators
38.4K bps (baud) at 1 Mile (1.6km), 115.2K bps (baud) at 0.8 Mile (1.3km)
RTS, DTR, or Auto RS-485 Transmitter Control
Tri-state Outputs for Multidrop Applications, up to 32 Devices
Selection of Connectors
Wide Operating Temperature Range
Pluggable Solderless Screw Terminal Field Connections
CE Compliant
Block Diagram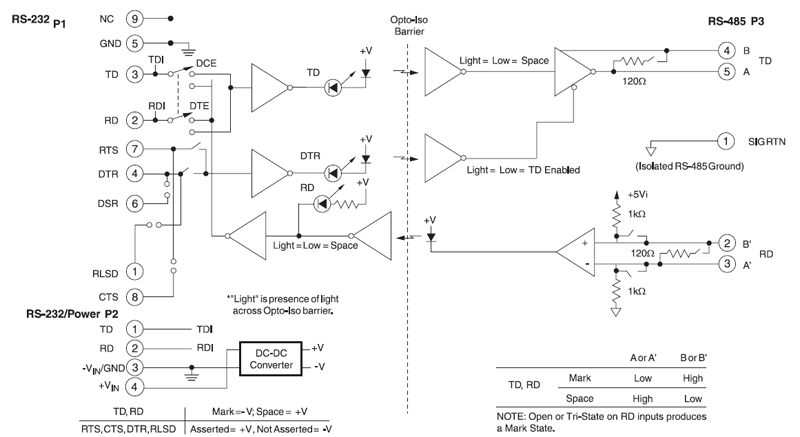 Custom Modules
* ... Status Codes: PR = Production, PT = Prototypes, QU = Quoted
We want your feedback!
We are interested in your feedback regarding our products. Please let us know what you think and if you have any questions regarding the SCM5B32 and how this product could apply to your application. Your feedback is very valuable to us and very much appreciated.
Was this content helpful?
Thank you for your feedback!