Jumper Configurable Isolator - DIN or Panel Mount
Each single channel DSCL24 module provides up to 36 different configurations of process current or voltage inputs and outputs. A unique snap-in tool allows quick extraction of the module's circuit board to permit the user to reposition four (4) jumpers and reconfigure each module's I/O. The factory default setting provides 0-20mA input and output current.

Each module provides full 3-Way isolation with 2300Vrms CMV input to output and 3700Vrms CMV power supply to I/O protection. Two module versions are offered that accept universal power supply of either 24 to 60VDC or AC and 85 to 230VDC or AC with the alternating current usage accepting 45 to 400Hz power.
Certifications
---
Technical Documents
Product Availability
Usually stock to 2-3 weeks
Features
Uses Universal Power Supply of 24 to 60V or 85 to 230V AC/DC
Configuration Jumpers Allows up to 36 I/O Settings
Three-Way Isolation for 2300Vrms Protection
Prevents Ground-Loop Problems
Prevents the Transfer of Interference Voltages and Currents
High Accuracy Over Full Span
No Recalibration or Maintenance Required
Narrow DIN Package, Mounts up to 27 Devices into a 19" Rack Space
DIN Rail or Panel Mountable
Block Diagram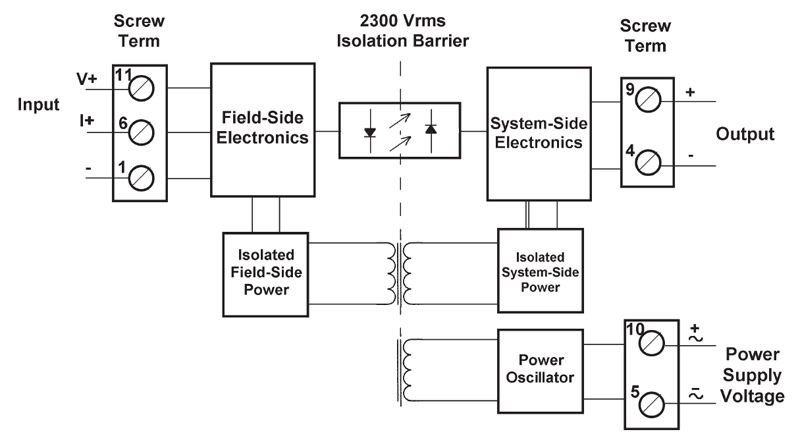 FAQ
Due to resource constraints on my computer, I'm unable to open the three dimensional CAD models provided on your website. Does Dataforth provide two demensional CAD models for download as well?
Two dimensional CAD models can be generated upon customer request. Please contact Customer Service for assistance.
How does the load resistance of a module affect the noise at the output?
Noise at the output of a module is independent of load resistance.
Can Dataforth provide calibration reports for modules I purchased?
Yes we can provide calibration reports for the modules that you purchased. You can either a) visit https://www.dataforth.com/TestDataReport.aspx to search for Test Report Datasheets by Serial Number or b) you can send us a list of model numbers and their serial numbers to support@dataforth.com
Custom Modules
* ... Status Codes: PR = Production, PT = Prototypes, QU = Quoted
We want your feedback!
We are interested in your feedback regarding our products. Please let us know what you think and if you have any questions regarding the SCM5B32 and how this product could apply to your application. Your feedback is very valuable to us and very much appreciated.
Was this content helpful?
Thank you for your feedback!