DSCP Products
Dataforth's DSCP series of products, along with the DSCL product line, provides a complete family of loop and universal AC/DC powered isolator and transmitter models in component, DIN rail, panel, and head-mount packages.
Basic loop-powered isolators
Wide-range AC/DC powered isolators and transmitters
Fixed-gain models
Hardware, software, and dip-switch configurable models
Depending on the model, they accept a wide range of voltage, current, thermocouple, and RTD input signals, then filter, isolate, amplify, linearize, and convert them to high-level analog outputs for use in data acquisition, test and measurement, and control system applications.
They protect measurement and control signals and connected equipment from noise, transient power surges, internal ground loops, and other hazards present in industrial environments.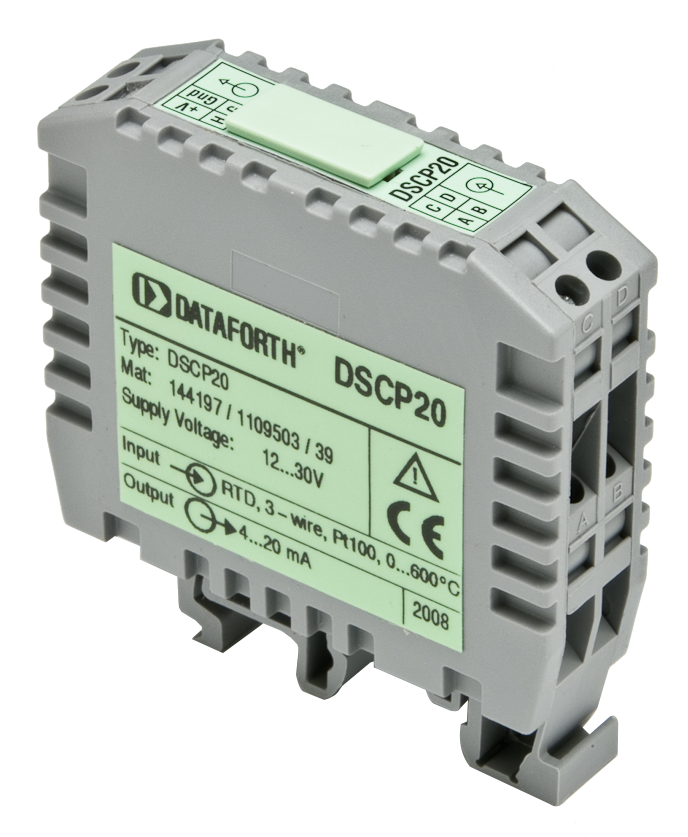 ---
Compact 6.2mm Signal Converters
Dataforth's family of compact DSCP signal converters includes seven different models, each housed in an ultra-slim 6.2mm case.
Ideal for applications in limited space
Dip-switch configuration
3 power supply options
3.67" x 0.24" x 4.04" (93.1mm x 6.2mm x 102.5mm) casing
1.6 oz (45g) per module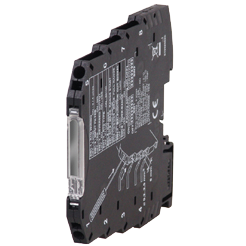 ---
Datasheets
Product Availability
Usually stock to 2-3 weeks
Features
Full Family of Loop Isolators and Transmitters
Signal Powered Passive Loop Isolator Models
Wide Range 24 to 60V or 85 to 230V AC/DC Powered Models
Jumper and Software Configurable Models
6.2mm Dip-switch Configurable Models
4000Vrms Isolation
PCB, DIN Rail, Panel Mount, or Instrument Head Mounting
Multiple Channels per Package Available
No Recalibration or Maintenance Required
Fault Detection of Input Signal Available
CE Compliant
Manufactured per RoHS Directive 2002/95/EC
FAQ
I have a high-speed application that requires a module for converting current to voltage (4-20mA to 0-5V) and also from voltage to current (0-5V to 4-20mA). Due to the high-speed of the application it would be preferable if there was no internal filter. Does Dataforth have a module that could meet these requirements?
The DSCP63 DC Voltage/Current converter is a match for this application. This module provides a single channel of voltage or current input which is converted to a voltage or current output. Input/output range, filter, fault indication, square root function and other functions may be configured by dip-switch. Disabling the filter on this module will reduce response time from <74ms to <35ms. Other modules that have configurable filters include the following: DSCP55, DSCP61, DSCP62, DSCP64, DSCP65, and DSCP81.
Due to resource constraints on my computer, I'm unable to open the three dimensional CAD models provided on your website. Does Dataforth provide two demensional CAD models for download as well?
Two dimensional CAD models can be generated upon customer request. Please contact Customer Service for assistance.
How does the load resistance of a module affect the noise at the output?
Noise at the output of a module is independent of load resistance.
Can Dataforth provide calibration reports for modules I purchased?
Yes we can provide calibration reports for the modules that you purchased. You can either a) visit https://www.dataforth.com/TestDataReport.aspx to search for Test Report Datasheets by Serial Number or b) you can send us a list of model numbers and their serial numbers to support@dataforth.com
Can terminals 6 & 8 on DSCP62 be connected together without damaging the unit?
Yes. However, keep in mind, when those terminals are not connected together, the module offers up to 1500Vrms isolation of the output section from the power section.
When those terminals are connected together, that isolation is cancelled, so the input of the device the module output is driving can no longer float.

Module still retains 1500Vrms withstand capability to the T/C or other type of input when pin 6 and 8 are tied together.



Was this content helpful?
Thank you for your feedback!