Dataforth Adds High Voltage Discrete I/O Module to MAQ®20 Family
Press Release
Release Date: Jun 14 2015
Dataforth's new
MAQ20-DIOH
discrete I/O module provides 4 isolated input channels and 4 isolatedoutput channels in one compact 15mm wide module. It is designed to monitor high level AC and DC voltages and control equipment that uses high level AC voltage. The module has the unique ability to perform two special functions on the input channels – Event Counter and Time Between Events.
"The MAQ-DIOH module is a significant addition to the MAQ20 family," says John Lehman, Engineering Manager. "It enables the MAQ20 Data Acquisition System to monitor and control multiple channels of high level industrial signals. It is also very compact; in fact, one MAQ20-DIOH module can perform the same function as an eight-channel backpanel populated with industry standard solid state relay modules."
Another advantage is that more discrete I/O channels and special functions capability can be added to a data acquisition system by simply snapping another MAQ20-DIOH module in any empty slot on a local or remote MAQ20 backbone.
Typical applications for the MAQ20-DIOH module include monitoring AC voltage On/Off states and control of equipment such as heaters, pumps, valves, motors, and lights.
The module's input channels interface to 90-280 VAC/VDC signals. Output channels control 24-280 VAC signals at up to 3Arms continuous.
The MAQ20-DIOH output channels have user configurable default output states for known system operation under startup and fault conditions. These are set upon power up or a user issued reset command.
In addition to performing standard discrete I/O, the input channels can be configured to perform two special functions that collect valuable measurement data otherwise obtained with host computer software:


Event Counter, which counts signal presence events
Time Between Events, which measures the time between two signal presence events on separate input channels
These special functions can run simultaneously.
Because special functions operate within the MAQ20-DIOH module without intervention from a control module or host computer software, High, Low, High-High and Low-Low alarms on the special function signals can be set to provide essential monitoring and warning functions; upon the occurrence of alarms, user-programmable local action takes place on the discrete output channels.
Input-to-bus isolation is a robust 1500Vrms and channel-to-channel isolation is 300Vrms. Each individual channel has continuous overload and reverse connection protection in the case of inadvertent wiring errors or equipment fault. Field I/O connections are made through a pluggable terminal block for ease of system reconfiguration.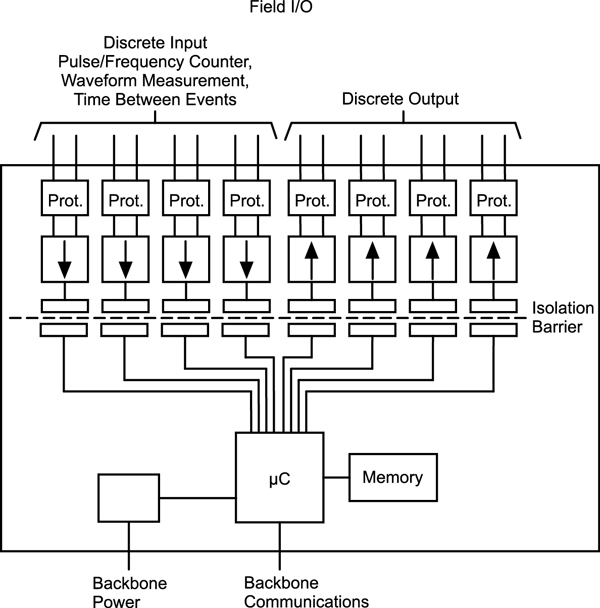 Dataforth was established in 1984 and is the world leader in data acquisition and control, signal conditioning and data communication products for industrial applications. Worldwide, our products provide rugged signal and data integrity and wide spectrum accuracy. All Dataforth products are manufactured in the USA and have been RoHS Compliant since 2006. The Dataforth Quality Management System is ISO9001:2015 registered. For additional information, call 800-444-7644 toll-free or email
sales@dataforth.com
.
Was this content helpful?
Thank you for your feedback!