Dataforth Announces Compliance with Latest ISO 9001:2015 & RoHS Quality Standards
Press Release
Release Date: May 20 2019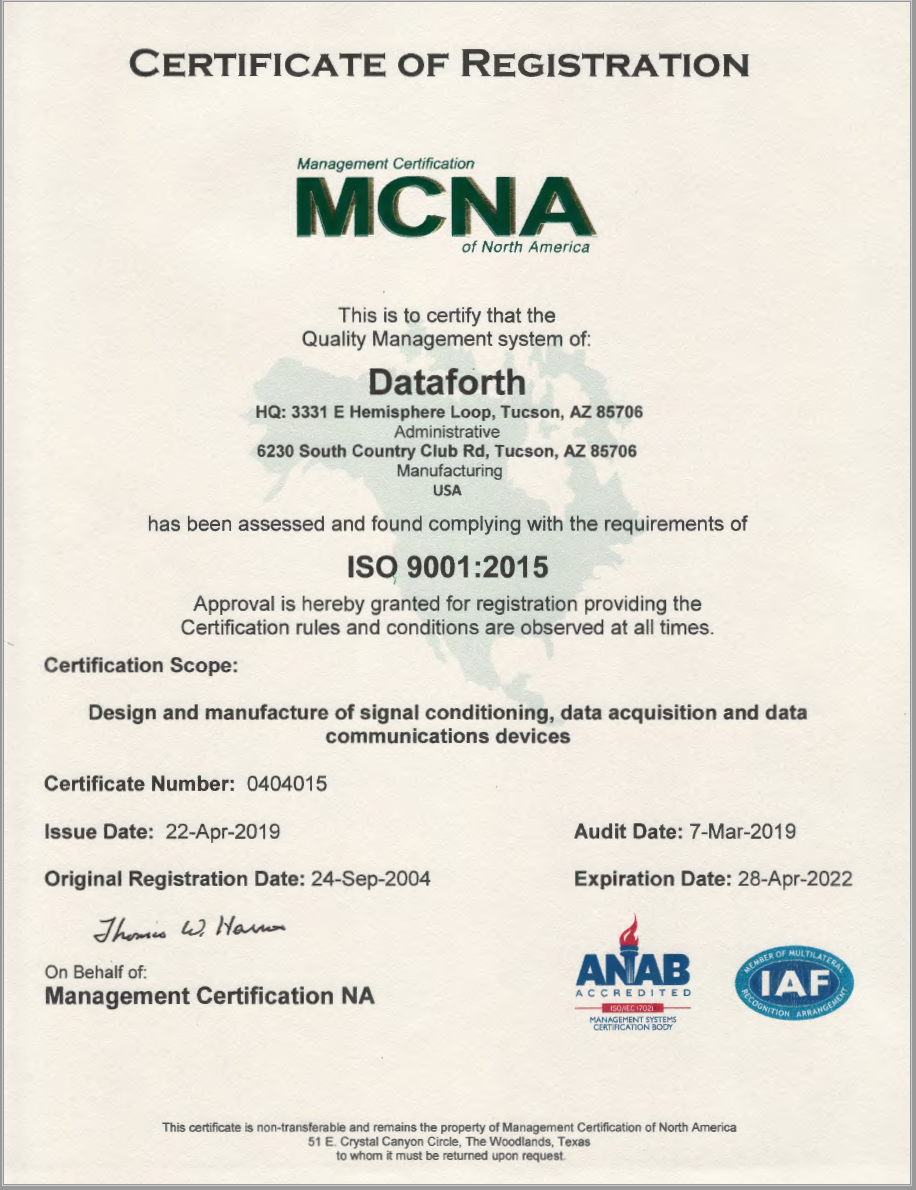 Dataforth's Quality Management System "has been assessed and found complying with the requirements of ISO 9001:2015," states MCNA (Management Certification of North America). The certification applies to Dataforth locations at both 3331 E. Hemisphere Loop, Tucson, AZ, administrative, and 6230 South Country Club Road, Tucson, AZ, manufacturing. The certification scope covers the "design and manufacture of signal conditioning, data acquisition and data communications devices." It is in effect through April 27, 2022.
"These certifications are proof of Dataforth's unwavering commitment to exceptional quality in both our products and our customer relationships," says Georg Haubner, Manager of Sales & Marketing. "We are extremely proud of our ability to satisfy customer requirements in a constantly changing marketplace as we know our ongoing success depends on this."
Dataforth also declared conformity with RoHS 3, Directive (EU) 2015/863, relating to restrictions on the marketing and use of certain hazardous substances. The RoHS declaration covers the following product families:
SCM5B
,
SCM7B
, and
8B modules and backpanels
;
DSCA DIN signal conditioners
,
DSCT two wire transmitters
,
LDM and DCP line drivers and converters
,
SLX isoLynx data acquisition systems
, and
MAQ20 modular data acquisition systems
.
Dataforth products directly connect to most industrial sensors and protect valuable measurement and control signals and equipment from the dangerous and degrading effects of noise, transient power surges, and other hazards present in industrial environments. Dataforth products are manufactured in the USA and are RoHS 3 compliant. The company operates under an ISO9001:2015 registered and certified Quality Management System. For additional information, call 800-444-7644 toll-free, email
sales@dataforth.com
, or visit our website at
https://www.dataforth.com
.
Was this content helpful?
Thank you for your feedback!