Press Release
Release Date: Jun 1 2004
OPC SERVER/DRIVER DOWNLOAD
KEPServerEX OPC (Limited Runtime Eval) Server
Data collection and analysis just got much easier, with Dataforth Corporation's introduction of a Device Driver for Kepware Technologies' KEPServerEX OPC (OLE for Process Control) Server for its isoLynx® SLX100 Data Acquisition System. The development effort was achieved through a partnering between Dataforth, located in Tucson, Arizona, and Kepware Technologies of Yarmouth, Maine.
OPC servers provide a standardized method of allowing multiple industrial applications to share data in a quick and robust manner. The technology reflects a welcome move from closed proprietary solutions to open architectures that provide more cost-effective solutions based on established standards.
The KEPServerEX OPC Server product was designed to meet the demanding requirements found in industrial applications, and it provides the widest range of connectivity of any server product available. The server was written as a two-part program, where the primary component provides OPC/DDE connectivity and user interface functions, while the second part is a package of plug-in communications drivers - including the Dataforth isoLynx Device Driver. This unique design enables the KEPServerEX to interface to a range of devices and protocols, providing a universal solution with multiple communications options.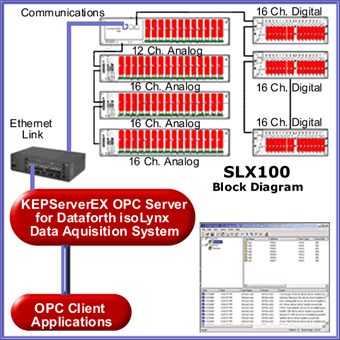 The Dataforth isoLynx® Device Driver was specifically designed for use with KEPServerEX OPC Server products and the Windows XP/2000/NT/98 operating systems running in Intel microprocessor based computers. The driver interfaces with all isoLynx SLX100 data acquisition systems that support the isoLynx protocol. Data integrity is ensured with extensive error handling.
A single isoLynx system can be built with as many as 60 channels of analog I/O and 128 channels of digital I/O. The OPC server can efficiently handle all I/O from such a system and can even interface to multiple isoLynx systems simultaneously. System configuration is effortless using the Automatic Tag Database Generation feature, which sets up all necessary tags for any isoLynx system automatically at startup or with the simple press of a button; this completely eliminates the cumbersome task of manual system configuration.
KEPServerEX interfaces to the isoLynx system using RS-232, RS-485/2, RS-485/4, or Ethernet communication links. It supports the following client/server technologies: OPC DA 1.0a, OPC DA 2.0, OPC DA 2.05a, FastDDE for Wonderware, SuiteLink for Wonderware, DDE Format CF_Text, and DDE Format Advanced DDE.
Many third-party clients can also connect to the server, including RSView, Cimplicity, Genesis, PanelMate PC, Think n' Do, Intouch, iFix32, and WinCC.
Dataforth's
isoLynx® SLX100
is an intelligent, high speed, fully isolated distributed system that offers outstanding flexibility for factory automation, process control, test and measurement, machine control, and data acquisition applications.
Key Features
Channel-to-Channel and Channel-to-Bus Isolation: 1500Vrms Analog I/O, 4000VDC Digital I/O
Input Protection of 240VAC Continuous, 5kV Peak per ANSI/IEEE C37.90.1
±0.012% Base System Accuracy, No Modules
±0.005% Base System Linearity, No Modules
±0.03% Module Accuracy
±0.005% Module Linearity
Up to 60 Channels
Mix and Match I/O Types on Per Channel Basis
Maximum Flexibility with 650+ SCM5B I/O Modules
All Modules Certified to CSA, FM, CE, and ATEX Requirements
System CE Compliant; CSA, FM, and ATEX Approvals Pending
The system is comprised of a 12-channel base system including an I/O controller module and optional 8- or 16-channel expansion backplanes all of which can be panel or DIN rail mounted. It accepts single-channel digital or analog I/O modules and provides 1500Vrms analog I/O isolation. All I/O is channel-to-channel and channel-to-bus isolated. Using Dataforth's versatile SCM5B analog modules and SCMD digital modules, one I/O controller module can operate up to 60 channels of differential analog I/O and 128 channels of digital I/O. The modular design and ability of all wiring to remain connected to the system when accessing I/O modules ensures excellent field serviceability and easy upgrades.
"The OPC server is like having a universal translator available 24/7," said Robert Smith, Dataforth's vice president of Sales and Marketing. "It represents a significant enhancement to our product line and keeps us in the forefront of our industry."
To purchase licenses or for additional information, call 800-444-7644 toll-free.
Was this content helpful?
Thank you for your feedback!