Signal Powered Fiber Optic Converter
The LDM80 is a small, inexpensive fiber optic transmitter/receiver completely powered by the host RS-232 port. The enclosure for the LDM80 is a conductive shell which greatly reduces RF radiation and susceptibility. The rugged metal enclosure is small enough to mount on the back panel of typical computer equipment saving valuable desk and floor space. A pair of these units allows most RS-232C cable links to be replaced and extended with a duplex fiber optic cable. The normal 50-foot (15m) RS-232 limit may be extended to 2.2 miles (3.5 km). Fiber optic data communications provide complete EMI/RFI rejection, isolation, elimination of ground loops, and reduced error rates. Data security is enhanced by almost nonexistent electromagnetic emissions. The RS-232 connection is through male or female EIA 25-pin connectors. The fiber optic connection is through ST connectors.

The LDM80 is equivalent to a 3-wire, full duplex, RS-232 circuit. Handshake signals are locally connected as in Figure 1. Indicating LEDs come on during a "SPACE" on transmit or receive data. A TD/RD reversing DIP switch is provided for connection to DTE (Data Terminal Equipment) or DCE (Data Communication Equipment) ports.
Certifications

---
Technical Documents
Product Availability
Usually stock to 2-3 weeks
Features
Data Rates to 19.2k Baud at 2.2 Miles (3.5km)
17dB Optical Link Power Budget
Powered by RS-232 Host Port Signals
Full Duplex Asynchronous Operation
Indicating LEDs
DCE/DTE Switch
Designed for FCC Class A Requirements
Complies with FCC Class A Requirements
Pinned or Socketed RS-232 Connectors
CE Compliant
Block Diagram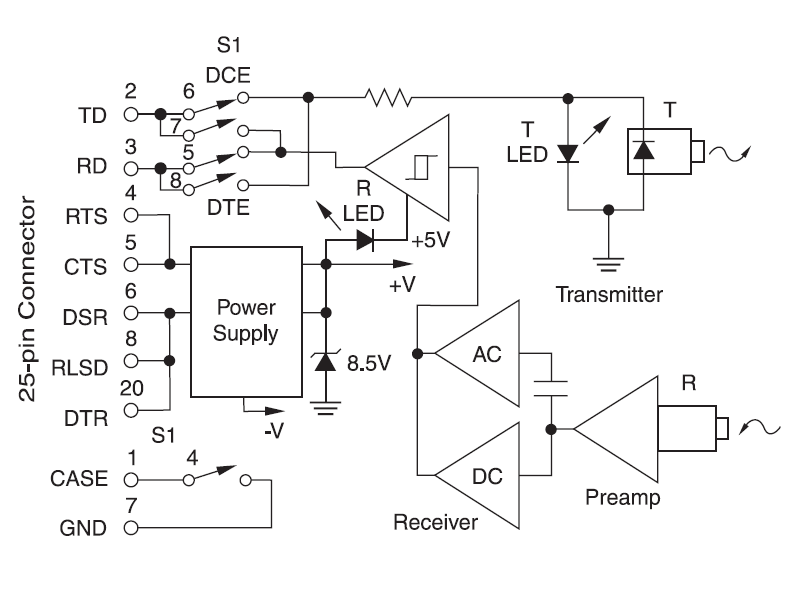 FAQ
Due to resource constraints on my computer, I'm unable to open the three dimensional CAD models provided on your website. Does Dataforth provide two demensional CAD models for download as well?
Two dimensional CAD models can be generated upon customer request. Please contact Customer Service for assistance.
Can Dataforth provide calibration reports for modules I purchased?
Yes we can provide calibration reports for the modules that you purchased. You can either a) visit https://www.dataforth.com/TestDataReport.aspx to search for Test Report Datasheets by Serial Number or b) you can send us a list of model numbers and their serial numbers to support@dataforth.com
Custom Modules
* ... Status Codes: PR = Production, PT = Prototypes, QU = Quoted
We want your feedback!
We are interested in your feedback regarding our products. Please let us know what you think and if you have any questions regarding the SCM5B32 and how this product could apply to your application. Your feedback is very valuable to us and very much appreciated.
Was this content helpful?
Thank you for your feedback!