IPEmotion Software for MAQ20 (1 COM module and 1 to 4 I/O modules)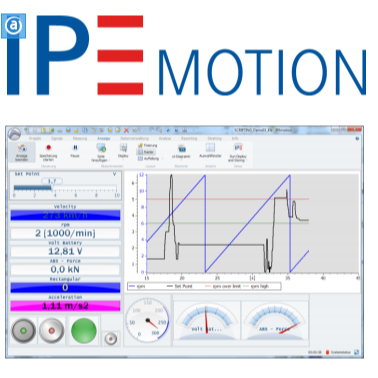 MAQ20-951

IPEmotion Software for MAQ20 (1 COM module and 1 to 4 I/O modules)
Description
Dataforth Corporation's latest data acquisition and control system – the MAQ®20 – is now available with IPEmotion software. This advanced, powerful, intuitive, and user-friendly new generation data acquisition / test and measurement software comes in 7 languages and is designed specifically for industrial and R&D applications.

It provides synchronized data acquisition and is easily adaptable to all customer specific requirements, including device configuration, data acquisition measurement, visualization, and analysis. To meet these requirements, IPEmotion provides automatic recognition of connected devices, automatic configuration of all channels, automatic start of measuring, and instant visualization of all measurement values.

"With the addition of IPEmotion, which competes successfully with the best test and measurement and process software available, the MAQ®20 is now classed with the best data acquisition and control systems on the market," says Georg Haubner, VP of Sales and Marketing.

MAQ®20 / IPEmotion measurements include temperature, current and voltage, strain, pressure, frequencies and rotational speeds, and logging and diagnostic data.

To enhance ease of use and increase productivity, the versatile, IPEmotion is available in English, German, French, Italian, Chinese (traditional and simplified), Korean, and Japanese. Russian and other languages will be available in the near future.

Well designed for long-term measurements, IPEmotion allows measurement analysis and verification during data acquisition. Storage can be on a local hard drive or a remote drive, including a mapped Internet or network drive.


IPEmotion communicates with the MAQ®20 via a PlugIn driver. The software also enables many functions to be integrated by linking external .dll and Visual Basic Script (.VBS) files to the application. This is a powerful tool, as Script enables users to automate the measurement process and to change menus, settings, analyzing procedures, and other aspects of the software.

The MAQ®20 industrial data acquisition and control system is a high performance, highly flexible system that was developed for a wide range of applications including test and measurement, factory and process automation, machine automation, military and aerospace, power and energy, oil and gas, and environmental monitoring.

The system consists of a family of DIN rail mounted, programmable, multi-channel, industrially rugged signal conditioning input and output modules and communication modules. It offers the lowest cost per channel, as well as ±0.035% accuracy, 1500Vrms channel-to-bus isolation, 240Vrms continuous input protection, and operating temperature range from -40°C to +85°C.

In addition to IPEmotion, the MAQ®20 is supported by Dataforth's ReDAQ® Shape software for MAQ®20. This out-of-the-box software enables users to create, save, and open graphical user interface projects for test, process, data collection and data analysis applications. ReDAQ® Shape for MAQ®20 enables users to interact with the Dataforth PID loop controller. In addition, the software provides an effective way to configure and customize MAQ®20 functions for specific application requirements. Just three easy steps are required to create data acquisition and control projects, and toolbox tools are easily moved, re-sized, cut, copied, pasted, and deleted.

Technical Documents
Specifications
Weight

0 grams (0 ounces)
Features

Key MAQ®20 / IPEmotion Features Include
Live Data Display, Recording, Online and Offline Math and Logic Functions
One-Click Acquisition

Direct hardware detection, data display and recording

Live Adjustment

Analyze and verify measurements during active data acquisition
GUI adaptation during active measurement and storage

Data Analysis
Post Processing and Report Generation
Easy Drag and Drop
High Speed Recording
PlugIn Synchronization
Import and Export Recorded Data to Standard File Formats
Scripting Option
Configurable Gauges for Wide Ranging Applications
Multilingual
Competitive Cross-Reference
No cross reference is available.
View Dataforth cross-reference data.
The information available through this competitive cross reference guide are based upon product catalog information obtained from a variety of sources. The competitive cross reference information is being provided to you free of charge for your use. While Dataforth Corp has used reasonable efforts to ensure data accuracy, Dataforth Corp does not guarantee that it is error-free, nor does Dataforth Corp make any other representation, warranty or guarantee that the information is accurate, correct, reliable or up-to-date. Dataforth Corp expressly disclaims all implied warranties regarding this information, including but not limited to any implied warranties of merchantability or fitness for a particular purpose.

This information is provided only as a convenience on an "as is" basis and Dataforth Corp. or its representatives or distributors are not responsible for any incorrect, inaccurate, or incomplete information. You are solely responsible for (1) selecting the appropriate Dataforth products for your application, (2) designing, validating and testing your application, and (3) ensuring your application meets applicable standards, and any other safety, security, or other requirements.
Was this content helpful?
Thank you for your feedback!