MAQ20 Data Acquisition System Features
Tech Note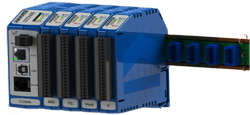 The MAQ20 Data Acquisition System encompasses more than 30 years of design excellence in the process control industry. It is a family of high performance, DIN rail mounted, programmable, multi-channel, industrially rugged signal conditioning I/O and communications modules.
Instrument Class Performance
±0.035% Accuracy, ±0.01% on some modules
Industry leading ±0.3°C thermocouple, CJC Accuracy over full operating temperature range
Ultra low Zero and Span Tempco
Over-range on one channel does not affect other channels
1500Vrms Channel-to-Bus Isolation
240Vrms Continuous Field I/O Protection
ANSI/IEEE C37.90.1 Transient Protection
Ventilated Communications and I/O Modules
Industrial Operating Temperature of -40°C to +85°C
Wide Range 7-34VDC Power CE Compliant, UL/CUL Listing and ATEX Compliance pending
Industry Leading Functionality
The system is a Modbus Server and can be operated remotely with no local PC
Up to 4GB of logged data can be transferred via FTP during real-time acquisition
Up to 24 I/O modules, or 384 channels, per system, per 19" rack width
Per-channel configurable for range, alarms, and other functions
Backbone mounts within DIN rail and distributes power and communications
System firmware automatically registers the installation and removal of I/O modules
I/O modules can be mounted remotely from the Communications Module
Equal load sharing power supply modules allow for system expansion
Hot Swappable I/O modules with Field-side pluggable terminal blocks on most models
Sophisticated package enables high density mounting in 3U increments
DIN Rail can be mounted on a continuous flat panel or plate
Distributed Processing Enables Even More Functionality
Output modules are programmable for user-defined waveforms
Discrete I/O modules have seven high level functions:

Pulse Counter
Frequency Counter
Waveform Measurement
Time Between Events
Frequency Generator
PWM Generator
One-Shot Pulse Generator
Multiple Software Options
Intuitive Graphical Control Software

Application Program Interface (API)
About Dataforth
"Our passion at Dataforth Corporation is designing, manufacturing, and marketing the best possible signal conditioning, data acquisition, and data communication products. Our mission is to set new standards of product quality, performance, and customer service." Dataforth Corporation, with more than thirty years of experience, is the worldwide leader in Instrument Class® Industrial Electronics – rugged, high performance signal conditioning, data acquisition, and data communication products that play a vital role in maintaining the integrity of industrial automation, data acquisition, and quality assurance systems. Our products directly connect to most industrial sensors and protect valuable measurement and control signals and equipment from the dangerous and degrading effects of noise, transient power surges, internal ground loops, and other hazards present in industrial environments. Dataforth spans the globe with more than 50 International Distributors and US Representative Companies. Our customers benefit from a team of over 130 sales people highly trained in the application of precision products for industrial markets. In addition, we have a team of application engineers in our Tucson factory ready to solve any in-depth application questions. Upon receipt of an RFQ or order, our Customer Service Department provides fast one-day delivery information turnaround.
We maintain an ample inventory that allows small quantity orders to be shipped from stock.
Dataforth operates under an ISO9001:2015 quality management system.
---
Was this content helpful?
Thank you for your feedback!