Real-Time Online MAQ20 Demos
Press Release
Release Date: Oct 17 2018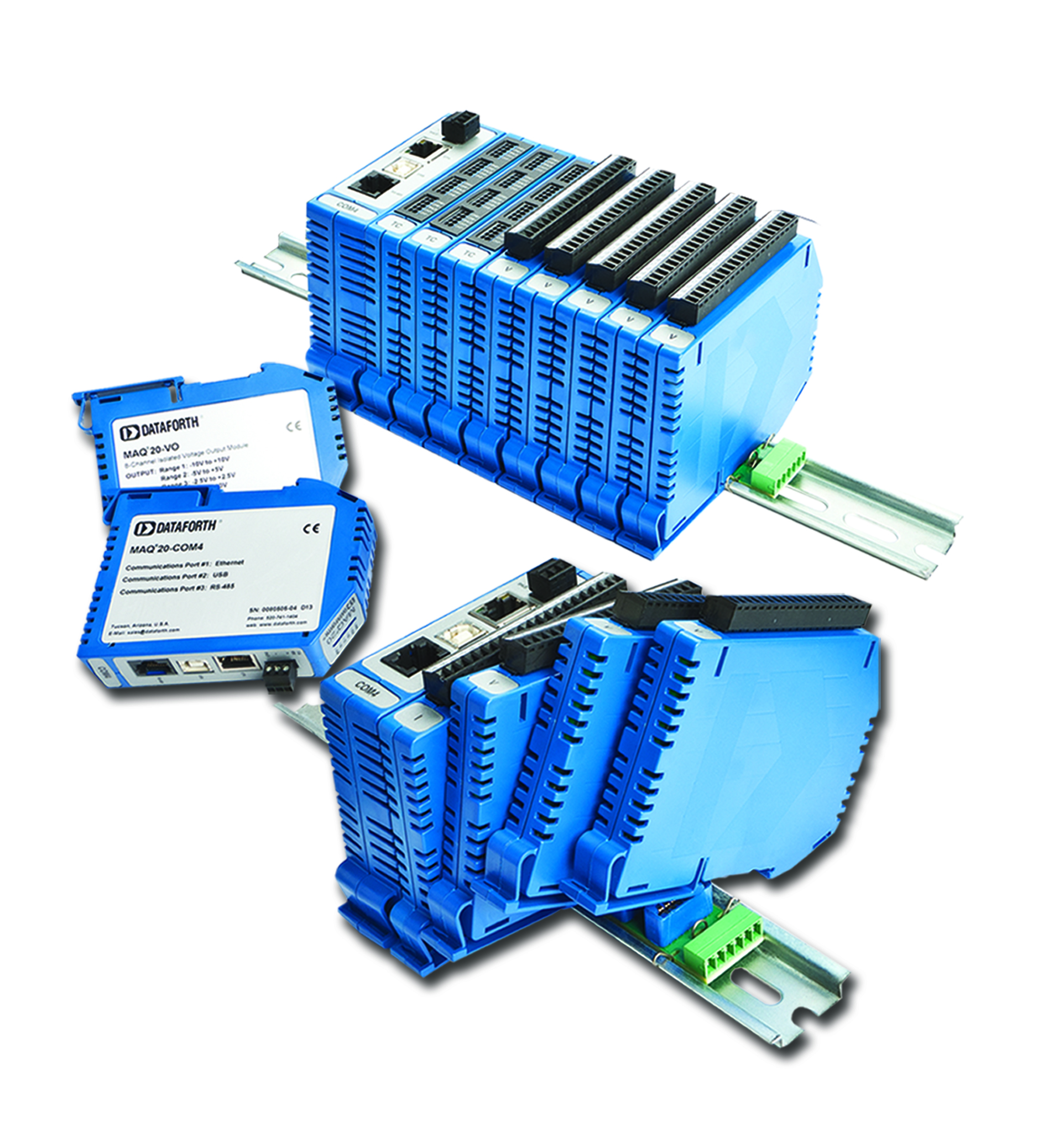 Dataforth Corporation has developed two online MAQ20 demonstrations that allow users to experience both real-time interaction with a MAQ20 and remote access to a MAQ20 system from anywhere.
For the Process Simulator Interactive Demo, Dataforth built a hardware module that acts as a process simulator. Dataforth engineers connected this hardware to a MAQ20 and, using the Dataforth website, which utilizes the MAQ20 Python API, customers can interact directly with the hardware using their browsers. It's also possible to witness the interaction via a live video feed directly from a camera pointed at the actual hardware in Tucson. Visit
www.dataforth.com/maq20-interactive-demo.aspx
for more details, including a graphic of the system diagram and information on the source code. There's also a link to schedule a session in which users take full control of the remote hardware.
For the Weather Station Demo, Dataforth engineers connected a commercial weather station and its sensors to the MAQ20 at the Tucson facility. The demonstration uses the MAQ20 Python API on the server to sample the MAQ20 and displays real-time weather reports directly in the customer's browser. Visit
www.dataforth.com/maq20-remote-access-viewer.aspx
for additional information and a graphic of the system diagram.
When connected, the webpage source code uses AJAX to connect to the dataforth.com server and request the latest weather station data. A python application on the dataforth.com server polls the weather station MAQ20 every 2 seconds for real-time data, which is then used to update the display in the browser window.
"We are very excited to offer these two demos to our customers because everyone can now experience the powerful MAQ20 Data Acquisition System from the comfort of their home or office," says Georg Haubner, Dataforth Sales & Marketing Manager. "No other company provides online access to real hardware demonstrations in real time, including live video feedback.
"We discussed these online demos in a recent webinar we presented," Haubner continued. "They let interested and potential MAQ20 customers experience first-hand the versatility and flexibility of this powerful DAQ system. As we all know, we can't always have a MAQ20 system sitting at our desks so the ability to access the system remotely is a significant advantage."
Presented by Georg Haubner and VP Product Development John Lehman, the webinar stressed the importance of remote connectivity and presented six real world challenges that were successfully met with MAQ20 solutions.
In all cases, the challenges were met using a combination of the
25 MAQ20 input/output modules
. Applications included high channel count temperature measurements, highly accurate sensing measurements, and remote system health monitoring. Specific cases included measuring the effect of ambient temperatures on the thermal behavior of an optical telescope, controlling valves to channel vehicle exhausts into different capture-vessels for later analysis, and maximizing the burn time of wood logs to achieve clean exhaust and minimal waste.
The full webinar is available at
www.globalspec.com/events/eventdetails?eventid=1733&evtsrc=Dataforth%5F180912%5FInv1%5FCS
.
Dataforth products directly connect to most industrial sensors and protect valuable measurement and control signals and equipment from the dangerous and degrading effects of noise, transient power surges, and other hazards present in industrial environments. Dataforth products are manufactured in the USA and are RoHS II compliant. The company operates under an ISO9001:2015 registered and certified Quality Management System.
For additional information, call 800-444-7644 toll-free, email
sales@dataforth.com
, or visit our website at
www.dataforth.com
.
Was this content helpful?
Thank you for your feedback!