Updated MAQ®20 Brochure and Product Catalog
Press Release
Dataforth has just published two revised and updated MAQ20 Industrial Data Acquisition & Control documents: a 4-page brochure and the 32-page 2015 Product Catalog.
The Brochure presents an overview of the MAQ20 system, which consists of high performance, DIN rail mounted, programmable, multi-channel, and industrially rugged signal conditioning input and output modules and communications modules.
Download the MAQ20 Brochure

The Product Catalog provides detailed descriptions, block diagrams, specifications, and ordering information for each of the module types, as well as a system overview.
"The MAQ20 system is so flexible and powerful," says Bob Smith, VP of Sales and Marketing. "We will be introducing new modules in coming months and will continue to enhance and grow the system for years to come."
Download the 2015 MAQ20 Product Catalog
The high performance MAQ20 offers the industry's lowest cost per channel, integral PID loop control, and ±0.035% system accuracy (module dependent). It is ideal for test and measurement, factory and process automation, machine automation, military and aerospace, power and energy, environmental monitoring, and oil and gas applications.
One MAQ20 communications module can interface to up to 24 I/O modules to construct a system with a maximum of 384 channels that fits within a standard 19" instrumentation rack. Modules mount on the industry standard 35x7.5mm gull-wing DIN rail; a backbone mounts within the rail to provide power and communication interconnections between the communications modules and each I/O module.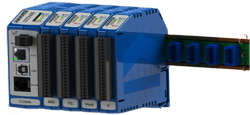 The MAQ20 system includes:
Communications Modules, which are offered in Ethernet, RS-232, RS-485, and USB with host application software interfacing to the system using Modbus TCP or Modbus RTU protocol
Analog Input Modules, which interface to a wide range of standard industrial sensors and equipment and offer up to 16 channels of input, each of which can be independently configured; signal ranges are user selectable and offered in differential and single-ended configurations

Voltage and Current input modules
Thermocouple input modules
RTD and Potentiometer input modules
Strain Gage input module
Frequency input module

Analog Output Modules, which drive valves, perform other crucial process operations, and provide up to eight channels of output that can be independently configured
Discrete Input/Output Modules, which provide multiple channels of input and output per module and offer advanced special functions as well as alarm capability
System Backbone, which resides within the DIN rail used for module mounting and provides power to and interface between the communications module and the I/O modules
Two dedicated software packages are offered for the system: the easy-to-use ReDAQ Shape for MAQ20, which is ideal for data acquisition, monitoring and control applications, and the advanced, intuitive IPEmotion, which was designed specifically for industrial and R&D applications and represents the next step in test & measurement. Both softwares provide the MAQ20 with leading-edge PID loop control.
Additional advanced features include alarms, counters, timers, and PWMs.
Like all Dataforth products, the MAQ20 system ensures exceptional isolation, protection, accuracy, and reliability. MAQ20 modules provide 1500Vrms channel-to-bus isolation, up to 240Vrms continuous field I/O protection, and ANSI/IEEE C37.90.1 transient protection. They are meant for installation in Class I, Division 2 hazardous locations and have a high level of immunity to environmental noise commonly found in heavy industrial environments. All MAQ20 modules are Heavy Industrial CE Compliant.
Dataforth was established in 1984 and is the world leader in data acquisition and control, signal conditioning, and data communication products for industrial applications. Worldwide, our products provide rugged signal and data integrity and wide spectrum accuracy. All Dataforth products are manufactured in the USA and have been RoHS Compliant since 2006. The Dataforth Quality Management System is ISO9001:2015 registered.

For additional information, call 800-444-7644 toll-free or email sales@dataforth.com.
Was this content helpful?
Thank you for your feedback!