Universal AC Input PWR-PS5R switching Power Supplies
Press Release
Release Date: Mar 1 1998
Introducing Dataforth's new PWR-PS5R Series, the new standard in switching power supply technology. Combining rugged, compact enclosures, incorporating all international saftey standards and approvals, and offering customers a broad selection of inputs and outputs, the PWR-PS5R series simplifies the customer's supply choice.
All models have a
universal input
that accepts 100-240VAC (or 110-350VDC).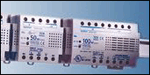 The PS5R is truly a power supply designed with a world market in mind, as evidenced by the UL508 listing, c-UL Listing, TUV approval, and CE marking (EN60950, EN50081-2, and EN50082-2)
Output power ranges
from 7.5W to 100W, allowing customers to increase power supply capacity as requirements grow without costly redesign and re-sourcing.
The UL508 listing may permit some customers to use smaller power supplies than are currently required. The outputs are available in either 12VDC or 24VDC, are adjustable +/- 10%, short circuit protected, andregulated to a 2% maximum ripple.
Unique spring up terminals
allow easy installation of ring lugs, and built in DIN rail clips require no additional brackets (all units are also direct surface mountable).
Key features include:
Universal AC input (100 to 240VAC)
DC compatible input (110 to 350V)
Unique spring-up, IP20 fingersafe terminals (ideal for ring lug terminated wire)
DIN rail or panel mount
Five output capacities
UL508 Listing
Fused input, auto-resetting output overcurrent protection
Worldwide approvals: UL (UL508), c-UL, TUV, and CE (both LVD and EMC)
Was this content helpful?
Thank you for your feedback!