MAQ20 RTD/Potentiometer Module Ensures Exceptional Protection
Press Release
Release Date: Dec 17 2014
Dataforth's MAQ20® Industrial Data Acquisition & Control System features an analog resistance input module designed to provide outstanding channel protection.
The
MAQ20-RTD31
interfaces to 3 types of 3-wire sensors: 100Ω Pt and 120Ω Ni RTDs, and potentiometers up to 5kΩ. The module has 6 input channels, each of which is protected up to 240Vrms continuous overload in case of inadvertent wiring errors. To be sure data integrity is preserved, overloaded channels do not adversely affect other channels in the module.
Transient protection is per the ANSI/ IEEE C37.90.1 standard; input-to-bus isolation is a robust 1500Vrms.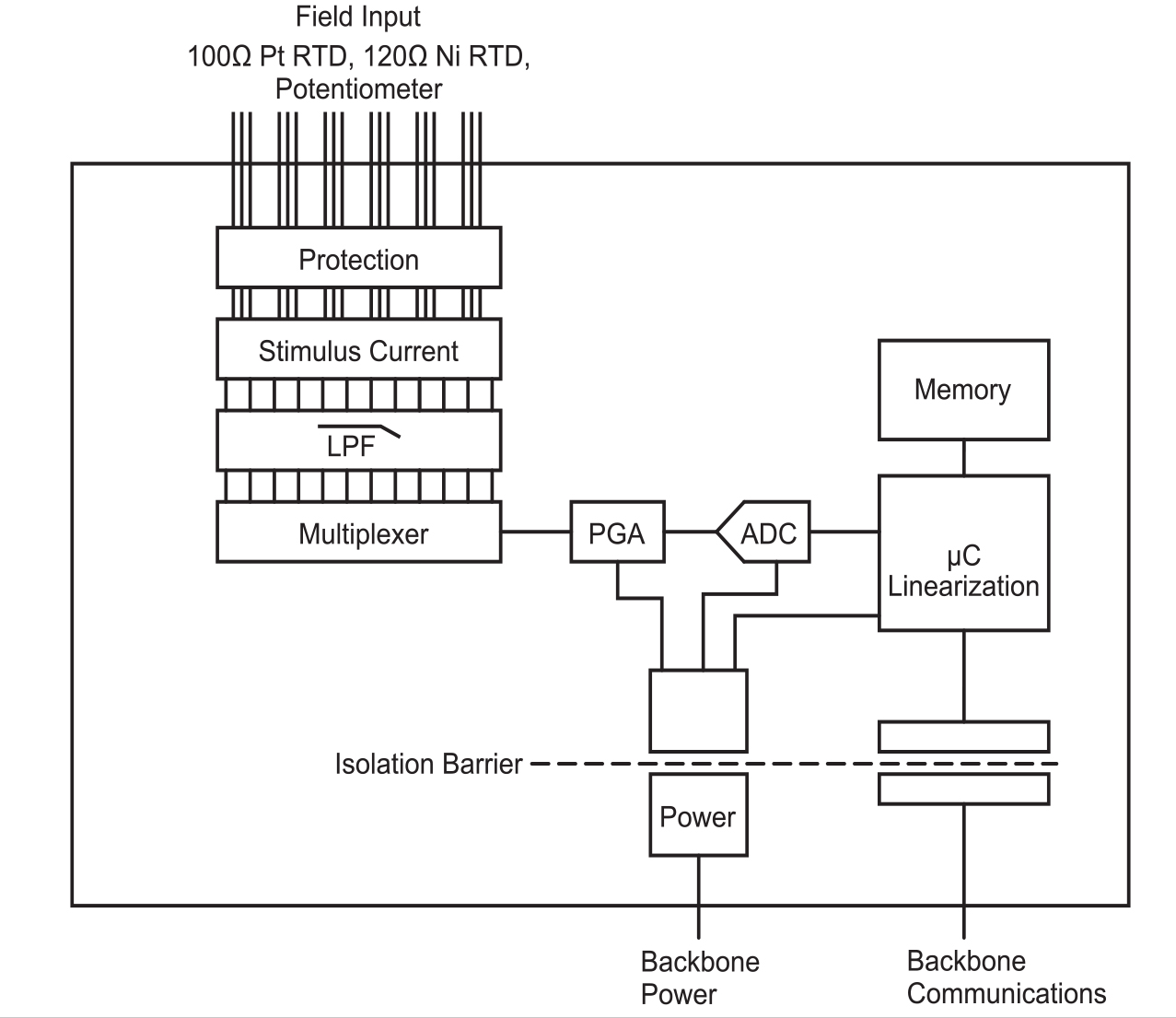 KEY MAQ20-RTD31 FEATURES
6 Input Channels for 3-Wire Sensors
Interface to Pt100, Ni120 RTDs, and Potentiometers up to 5kΩ
All Channels Individually Configurable for Sensor, Range, Alarms, Averaging
Each Channel Protected up to 240Vrms Continuous Overload
1500Vrms Input-to-Bus Isolation
Accuracy ±0.06% Span
Selective Enabling of Module Channels for Scanning
Heavy Industrial CE Compliant, UL/CUL Listing and ATEX Compliance Pending
The ability to individually configure channels for sensor, range, alarm limits, and averag¬ing ensures the system can meet the most demanding applications. While all channels are enabled by default, those not used can be disabled to increase the sampling rate of channels enabled for scanning.
Hardware low-pass filtering in each channel provides rejection of 50 and 60Hz line frequencies. High, Low, High-High and Low-Low alarms provide essential monitoring and warning functions to ensure optimum process flow and fail-safe applications.
Precision, low magnitude current sources minimize sensor self-heating and cancel lead resistance errors. Input sensors and input ranges are selectable on a per-channel basis, and one to three ranges are available, depending on the sensor. Over-range and under-range up to 2% beyond the specified input values is allowed. Sensor linearization is performed in the module with accuracy guaranteed to ±f.s.
Field I/O connections are made through a pluggable terminal block with positions designated for the termination of wiring shields.
The
MAQ20 system
consists of DIN rail mounted, programmable, multi-channel, signal conditioning input and output modules and communications modules. System power is connected to the Communications module, which in turn powers the I/O modules.
System backbones mount within a 35 x 7.5mm standard DIN rail and distribute power and communications. Each of the four available backbone models accommodates one Communications module and a set number of I/O modules, ranging from 4 to a maximum of 24.
Dataforth was established in 1984 and is the world leader in data acquisition and control, signal conditioning, and data communication products for industrial applications. Worldwide, our products provide rugged signal and data integrity and wide spectrum accuracy. All Dataforth products are manufactured in the USA and have been RoHS Compliant since 2006. The Dataforth Quality Management System is ISO9001:2015 registered.
For additional information, call 800-444-7644 toll-free or email
sales@dataforth.com
.
Was this content helpful?
Thank you for your feedback!