Graphical Software for 8B isoLynx®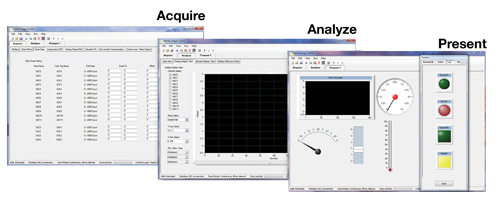 SLX930

Graphical Software for 8B isoLynx®
Description
The easiest and most efficient development tool to create, save and open graphical user interface projects!
Projects can be distributed as runtime applications protected from user changes.
ReDAQ® Shape is Dataforth's out-of-the-box data acquisition software designed specifically for the SLX300. When combined with the 8B isoLynx® SLX300, ReDAQ® Shape software ensures an exceptionally powerful data acquisition system.
Create, save, and open graphical user interface projects
Test, process, and analyze acquired data
Create customized Presentation panels in 3 easy steps
Use built-in functions in the Acquire and Analyze panels without setup and configuration
18 high quality controls
Supports any graphical file format
Integrated, across-the-board applicability
ReDAQ® Shape also provides the most effective way to set up and configure the many powerful 8B isoLynx® SLX300 functions.
Technical Documents
Specifications
Weight

0 grams (0 ounces)
Competitive Cross-Reference
No cross reference is available.
View Dataforth cross-reference data.
The information available through this competitive cross reference guide are based upon product catalog information obtained from a variety of sources. The competitive cross reference information is being provided to you free of charge for your use. While Dataforth Corp has used reasonable efforts to ensure data accuracy, Dataforth Corp does not guarantee that it is error-free, nor does Dataforth Corp make any other representation, warranty or guarantee that the information is accurate, correct, reliable or up-to-date. Dataforth Corp expressly disclaims all implied warranties regarding this information, including but not limited to any implied warranties of merchantability or fitness for a particular purpose.

This information is provided only as a convenience on an "as is" basis and Dataforth Corp. or its representatives or distributors are not responsible for any incorrect, inaccurate, or incomplete information. You are solely responsible for (1) selecting the appropriate Dataforth products for your application, (2) designing, validating and testing your application, and (3) ensuring your application meets applicable standards, and any other safety, security, or other requirements.
Was this content helpful?
Thank you for your feedback!