Dataforth Introduces Compact 6.2mm Signal Converters
Press Release
Release Date: Jun 3 2010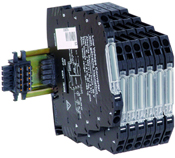 Dataforth Corporation's family of compact, dip-switch configurable DSCP signal converters includes seven different models, each housed in an ultra-slim 3.67" x 0.24" x 4.04" (93.1mm x 6.2mm x 102.5mm) DIN case. Designed for data acquisition, test/measurement, and control system applications, their narrow housing makes them ideal where space is limited.
In addition to compact housing, the DSCP6x series offers easy spring cage clamp connections. An expandable Power-Bus connector on the DIN rail guide also is available, allowing power distribution to as many as 75 modules.
Go to the
DSCP/SCTP Product Index
.
Other Outstanding Specifications Include:
Better than ±0.1% accuracy
14-bit resolution
1500Vrms galvanic isolation, 3-way
Output overcurrent protection
Dip-switch configuration
3 power supply options
Expandable Power-Bus connector on DIN rail guide
Cage clamp connectors
CE Compliant
Manufactured per RoHS Directive 2002/95/EC
The DSCP slim-line models include the DSCP55 Pt100, Ni100/loop-powered converter; the DSCP61 Pt100-to-DC current/voltage converter; the DSCP62 thermocouple-to-DC current/voltage converter with relay output; the DSCP63 DC voltage/current converter; the DSCP64 DC voltage/current converter with transducer power supply; the DSCP65 DC low voltage converter, and the DSCP70 power supply connection module for the DIN rail power bus.
Output current for the DSCP61/62/63/64/65 is 0 to 20, 4 to 20, 20 to 0, or 20 to 4mA, and for the DSCP55 it is 4 to 20 or 20 to 4mA. The DSCP62 also offers an auxiliary relay for alarm or control.
Three power supply options are available for the 19.2 to 30VDC DSCP6x series. First, the 24VDC power supply can be connected directly to each signal conditioner. Second, power can be connected to one signal conditioner and, using the expandable Power-Bus connector, be distributed to a maximum of 16 adjacent modules. Third, using the DSCP70 power supply connection module and the expandable Power-Bus connector, power can be distributed to a maximum of 75 modules. In addition, two independent inputs allow redundant power to the DSCP70 connection module.
Operating temperature for the modules is -20°C to +65°C; storage temperature is -40°C to +85°C. The weight is 1.6 oz (45g) per module.
Taken together, the DSCP slim-line's outstanding features, including programmability, accuracy, different output ranges, over-range limit detect, and alarm - all available in a very compact package at a competitive price - distinguish this product family from many other solutions available on the market, enhance Dataforth's product offering, and provide the customer with a solution that can be fine-tuned for a given application or reconfigured for different applications.
Dataforth was established in 1984 and is the world leader in data acquisition, signal conditioning and data communication products for industrial applications. Worldwide, our products provide rugged signal and data integrity and wide spectrum accuracy. All Dataforth products are manufactured in the USA and have been RoHS Compliant since 2006. The Dataforth Quality Management System is ISO9001:2015 registered.
Remember, our Application Engineers can assist you with signal conditioner selection over the phone or via fax and email. Call us at our manufacturing facility in Tucson at 520-741-1404 (fax 520-741-0762) or Email us at support@dataforth.com. Original Release: June 2010
Was this content helpful?
Thank you for your feedback!