DCP35 Low Cost DIN Rail Dual Port Signal Powered RS-232 Line Driver
Press Release
Release Date: Jul 1 2000
Dataforth Corporation, Tucson, Arizona announces the introduction of its new, high performance DCP35 DIN-rail signal-powered RS-232 line driver. The new device offers customers a unique combination of protection, speed, and versatility for DIN-rail mount industrial data communication applications.
The DCP35 signal-powered line driver allows computers, controllers, terminals, and other industrial I/O devices with RS-232 ports to communicate with each other over extended distances while protecting valuable equipment and signals from damage or degradation due to ground loops, power surges, lightning strikes, and other electrical hazards commonly found in industrial environments.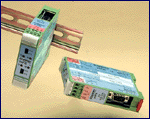 The new DCP35 uses heavy-duty optical couplers to provide 300Vrms continuous (500VDC surge, 1 minute) isolation between input and output signals. The dual port models offer inter-channel isolation of 1500Vrms continuous (5000VDC surge, 1 minute). For added safety, ANSI/IEEE C37.90.1-1989 surge protection is also provided on all field side connections.
The DCP35 does not require a power supply for operation. The use of low power circuits and a sensitive optically isolated receiver allow the unit to derive all necessary power from the RS-232 data and control signals. It is designed for full-duplex, asynchronous operation over two DC-continuous, non-loaded, twisted-wire pair. It can be operated up to 19.2K bps (Baud) at a distance of 0.5 miles (0.8 km).
The DCP35 is easy to set up and to use. Markings on the exterior of the compact, DIN-rail-mountable package (4.2" x 3.3" x 0.89"; 107mm x 84mm x 22.5mm) provide all the information necessary to quickly wire and set up the device. Each unit features a convenient DCE (Data Communication Equipment) to DTE (Data Terminal Equipment) switch that reverses pins 2 and 3 of the RS-232 connector. For installation and system troubleshooting, each unit has diagnostic LEDs on the transmit and receive lines. RS-232 connections may be made through male or female EIA 9-pin D-sub connectors. Field connections are made through pluggable screw terminal connectors. The device operates over a temperature range of 0 to +70°C.
The device is available in single and dual channel versions.
The new device adds to the Company's already extensive line of high performance industrial data communications products and systems, including stand-alone and rack-mounted limited distance line drivers and line driver systems. Dataforth Corporation is a worldwide leader in the design and manufacture of signal conditioning and data communications products for industrial and institutional markets.
Go directly to the DCP35 Product Family in our Data Communication Products Catalog.
Data acquisition. Signal conditioning. Signal conditioners. Thermocouple. Strain gage. Data loggers. Data logging. PC-based data acquisition. 5B signal conditioning. Dataforth provides all data acquisition and signal conditioning solutions.
Was this content helpful?
Thank you for your feedback!