Dataforth Unveils Dynamic New Website
Press Release
Many months in the making, Dataforth's new, updated website is dynamic, informative, and user-friendly. From details and specs on the full product line to a rich library of Application Notes, videos, and the latest enewsletters and product releases, it's all available at your fingertips. See what we're so excited about at www.dataforth.com.

"From the start, our commitment has been to successfully meet customer needs through the ongoing design, development, and manufacture of top quality, affordable industrial electronics," says Georg Haubner, Sales & Marketing Manager.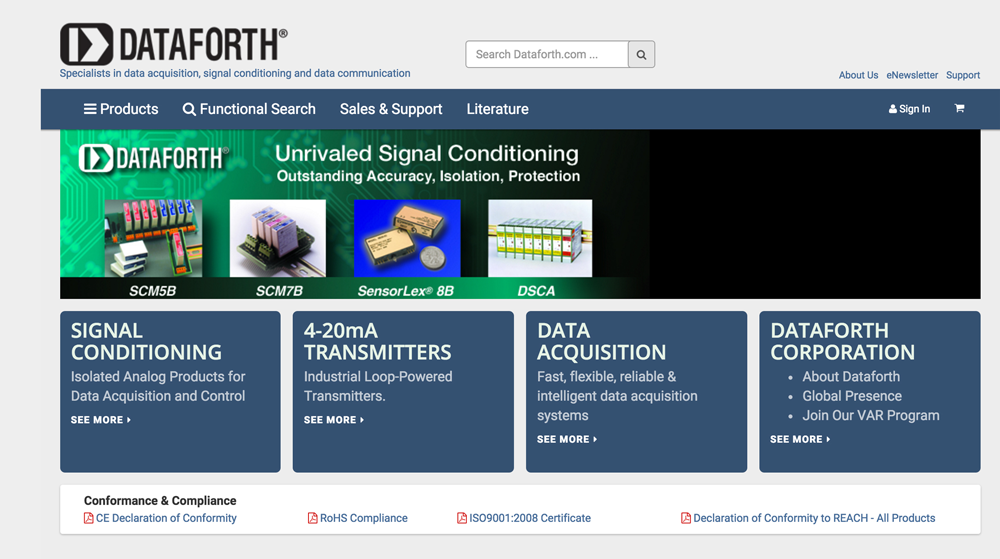 To demonstrate the depth of this commitment, Dataforth has just extended the warranty for all hardware products, including complete systems, from one year to three years from the date of initial delivery. Go to www.dataforth.com/terms_and_conditions_sale.aspx to see Dataforth's Standard Terms and Conditions of Sale.
"In addition to enhancing and growing our product lines," Haubner states, "we are using the latest technologies to present our products to the global market. With our website as with our products, by intelligently observing and quickly responding to constantly changing market forces, we are ensuring the continuation of our critical customer partnerships."
Key website navigational categories are Products, Functional Search, Sales & Support, and Literature.
Established in 1984, Dataforth is the world leader in data acquisition, signal conditioning and data communication products for industrial applications. Our products include:
5B 3-Way Isolated Analog Signal Conditioning Modules
7B 2-Way Isolated Process Control Signal Conditioning Modules
8B Isolated Miniature Signal Conditioning Modules
9B Isolated Intelligent Signal Conditioning Modules
DSCA High Performance DIN Isolated Analog Signal Conditioning Modules
SCMD Isolated Digital I/O Modules
DSCL and DSCP Loop Isolators and Transmitters
DSCT Din Rail Mount 2-Wire Transmitters
MAQ® 20 Data Acquisition & Control System
isoLynx® SLX200/SLX300 Data Acquisition Systems
Data Acquisition System Builder, which enables online configuration, pricing, and purchase of a data acquisition system
Worldwide, Dataforth products provide rugged signal and data integrity and wide spectrum accuracy. All products are manufactured in the USA and have been RoHS Compliant since 2006. The Dataforth Quality Management System is ISO9001:2015 registered. For additional information, call 800-444-7644 toll-free, email
sales@dataforth.com
, or visit our website at
www.dataforth.com
.
Was this content helpful?
Thank you for your feedback!