12Ch AI, 4-Ch AO, 8-Ch DIO, USB (Virtual Com Port), DIN Rail Mount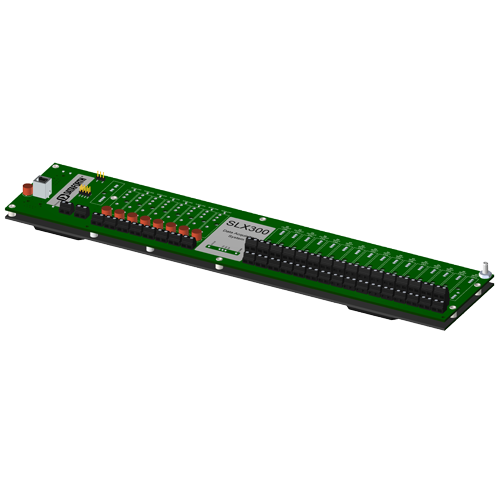 SLX300-30D

12Ch AI, 4-Ch AO, 8-Ch DIO, USB (Virtual Com Port), DIN Rail Mount
Product Availability:
Usually stock to 2-3 weeks.
SLX300-30D added to cart.
Description
Dataforth's SLX300 data acquisition and control system features complete flexibility while providing 1500Vrms channel-to-channel and channel-to-system isolation for all channels. In addition, with the exhaustive selection of 8B modules, the mix of I/O functions can be changed at will. There are 89 analog I/O models and 14 industry standard digital models that may be used in SLX300. It may be used as a panel mounted back plane or in a metal, rack mount, 1U height package. Using Dataforth ReDAQ Shape software, almost any low to medium speed data acquisition and control solution can be achieved.
Technical Documents
Specifications
COM Type

USB (VCP)

Mounting Type

DIN rail

Software Option

None

Weight

0 grams (0 ounces)
Features
Modbus RTU and TCP Support
1500Vrms Input-to-Output & Channel-to-Channel Isolation
240Vrms Field-Side Protection
Wide I/O Selection
Analog – 19 Product Families, 89 Models
Digital – 6 Product Families, 14 Models
Mix & Match Analog & Digital I/O
Advanced Features Including Alarms, Counters, Timers, PWMs, and more
-40 to +85°C Operating Temperature
Free Configuration Software
CE Compliant
Hazardous Locations Certification, UL/CUL Class I, Div. 2, Gr A, B, C, D
Manufactured per RoHS Directives
Easy to use ReDAQ Shape Software
LabVIEW VI's and Programming Examples
FAQ
Due to resource constraints on my computer, I'm unable to open the three dimensional CAD models provided on your website. Does Dataforth provide two demensional CAD models for download as well?
Two dimensional CAD models can be generated upon customer request. Please contact Customer Service for assistance.
Competitive Cross-Reference
No cross reference is available.
View Dataforth cross-reference data.
The information available through this competitive cross reference guide are based upon product catalog information obtained from a variety of sources. The competitive cross reference information is being provided to you free of charge for your use. While Dataforth Corp has used reasonable efforts to ensure data accuracy, Dataforth Corp does not guarantee that it is error-free, nor does Dataforth Corp make any other representation, warranty or guarantee that the information is accurate, correct, reliable or up-to-date. Dataforth Corp expressly disclaims all implied warranties regarding this information, including but not limited to any implied warranties of merchantability or fitness for a particular purpose.

This information is provided only as a convenience on an "as is" basis and Dataforth Corp. or its representatives or distributors are not responsible for any incorrect, inaccurate, or incomplete information. You are solely responsible for (1) selecting the appropriate Dataforth products for your application, (2) designing, validating and testing your application, and (3) ensuring your application meets applicable standards, and any other safety, security, or other requirements.
Was this content helpful?
Thank you for your feedback!